So my wife was out with her friends on Friday leaving me home with Skye. I had just gotten in some cables from DouglasConnection to demo, specifically his 9 gauge cables and 2 sets of jumpers. I also have 2 sets of interconnects coming in from him so I can have a full setup of his cables. I will be reviewing these for him over the course of a couple weeks and putting them against my Kimber Kable Hero IC's and Kimber 8VS internally bi-wired speaker cables in my downstairs setup.
To start with though I decided this was the best time to just sit and really re-organize my setup in the office as I was using just cheap Monoprice speaker wire. I had a entertainment center with 2 shelves I wasnt really utilizing right and a equipment rack that I just couldnt seem to find a way to incorporate right with the rest of my gear. So I went to work and from the hours of 10:30 - 1 got everything moved around. I managed to bring all my gear out and have it in the room, even if its not plugged in.
I also managed to re-work things so that I can actually get a decent set of speaker cables in there and not need a 15 foot cable for one speaker and a 6 foot for another one. This means for this setup once Dougs cables move along to the next guy to demo I can hopefully re-use some of the Audioquest FLX 14/4 speaker wire I have already instead of the horrible Monoprice stuff I had been using.
So here is my setup now as it stands. I think this will be where I leave things for at least 6 months. Its the most optimized setup for me. All units are as close together as possible allowing for the shortest runs of IC's and SC's which means less cost and easier to keep cables run properly. I still want a power conditioner like a Panamax unit to go underneath my Parasound, but for now everythings through a powerstrip. I also hope to upgrade all the powercables as well. I am looking at Cullen Cable, Douglas Connection, Pepster cables (if he is still making them), Audioquest or Kimber. I will wait till I get my conditioner though.
Here is the rig as it stands: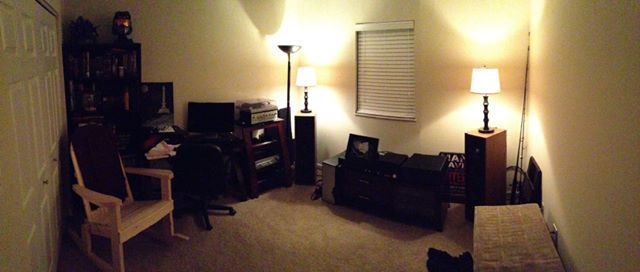 Daily Drivers:
Sources:
CD/SACD/DVD-A Player: Denon 3910
Laserdisc Player: Pioneer LD-S1
FLAC: Custom Computer
Turntable: Technics SL-B3
Phono-pre: Harman Kardon Citation Eleven
Pre-amp:
Amp:
Cables:
Denon 3910: 1m Audioquest G-Snakes
Laserdisc: Rat Shack - (looking to upgrade)
Computer: Black Cat Digital Cable - THANKS PHIL!
Turntable: stock
Harman Kardon Citation Eleven: 4m Audioquest Sidewinder - thanks to whoever pointed out this deal on the forum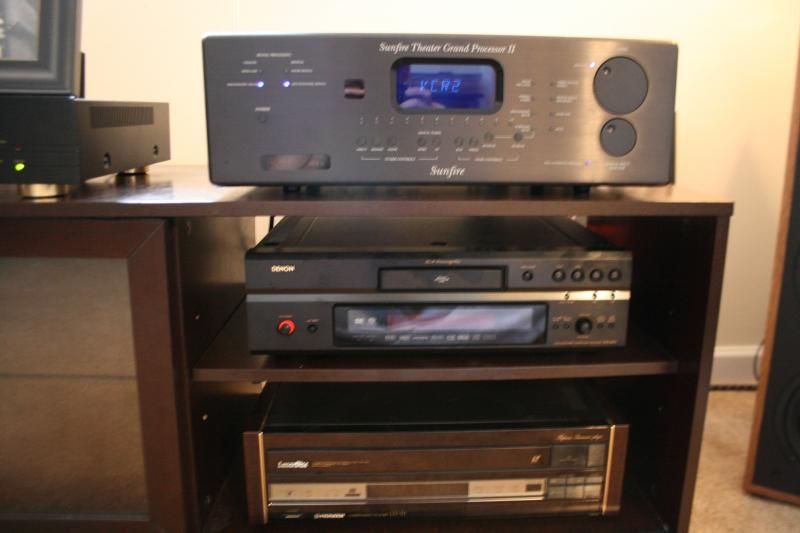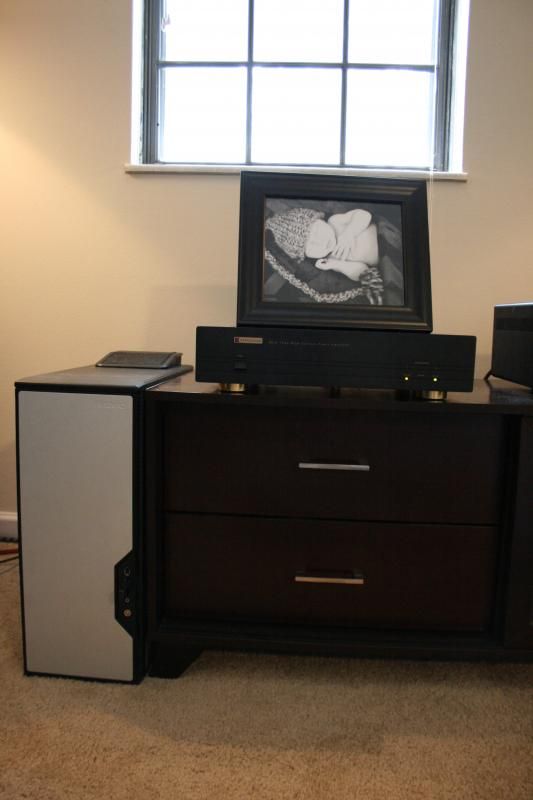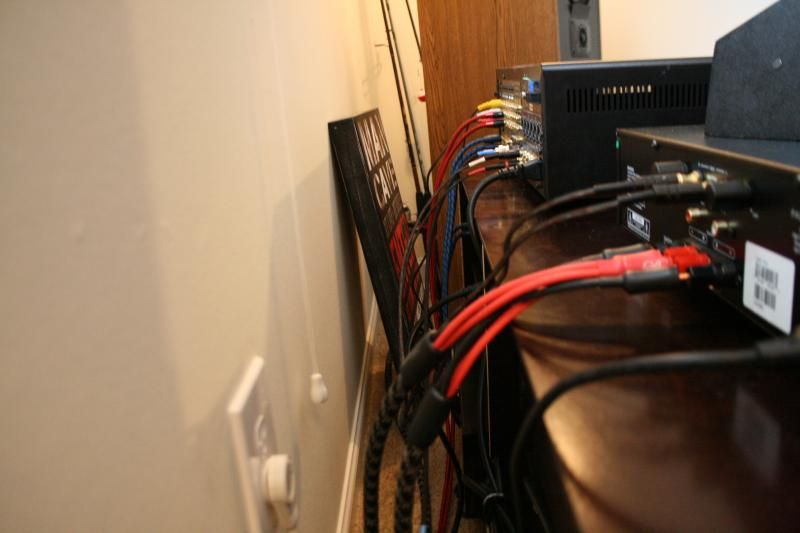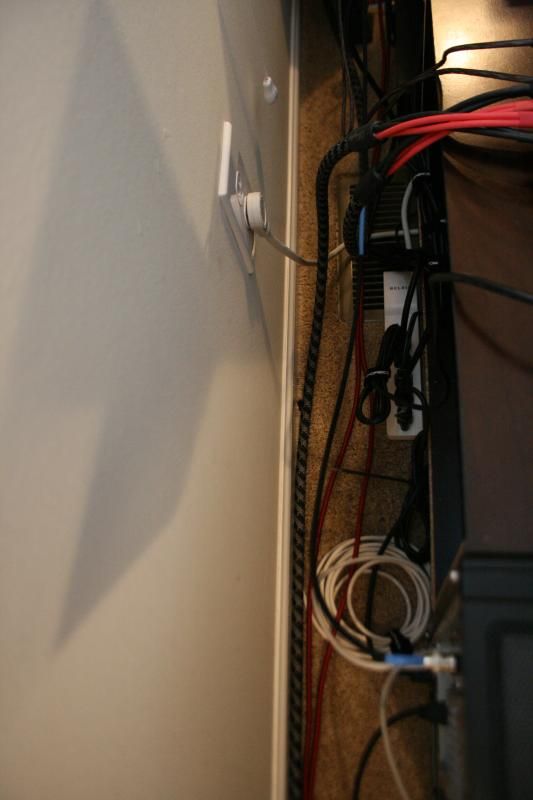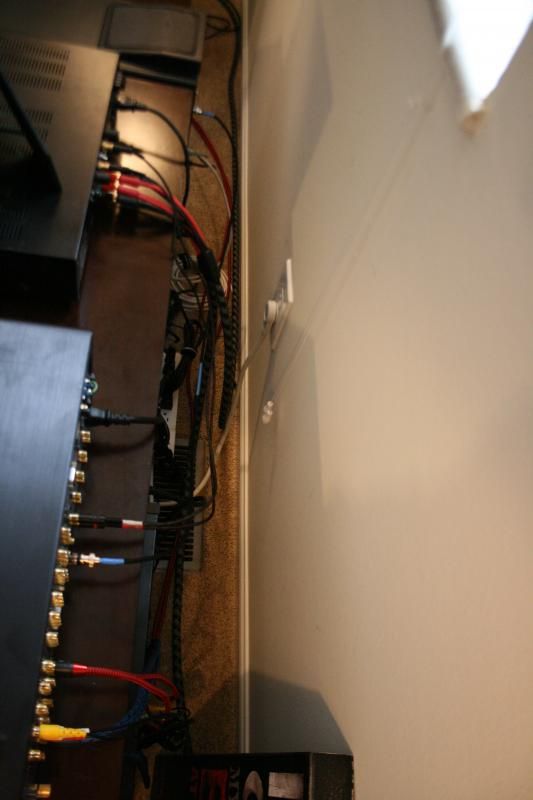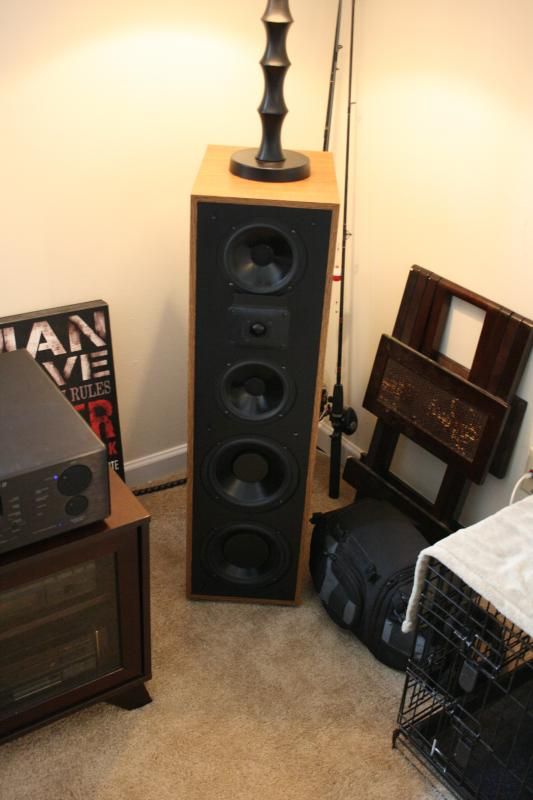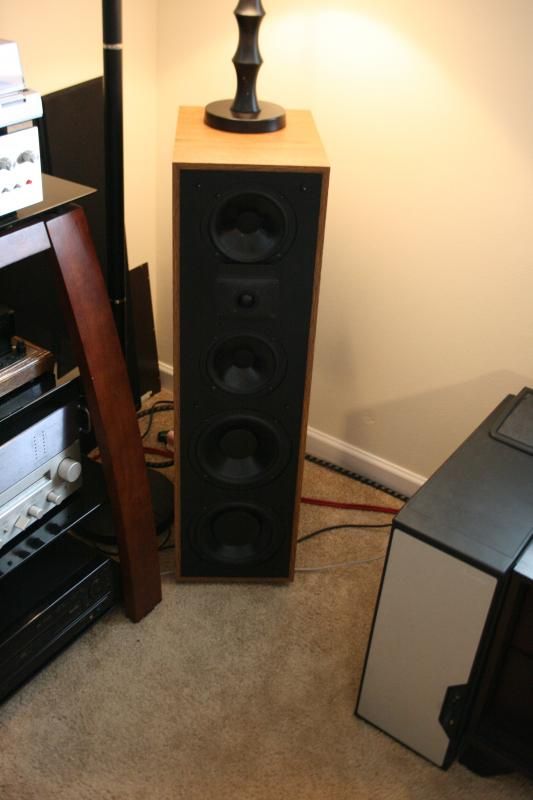 Now you may ask.... what happened to that pretty equipment rack you had Dan..... Well here is your answer, it became my
SHOW PIECE/VINTAGE GEAR RACK!!!
. This is where I keep my vintage looking pieces, both in use (Turntable, HK) and those units not in rotation right now for whatever reason. It lets me keep them out to show off even when not in use. It needs some more gear in it though, hopefully a nice Marantz integrated, and some good Kenwood and Onkyo pieces too....
Here is what is currently in each shelf from Top to Bottom:
Units
Technics SL-B3
Harman Kardon Citation Eleven Pre-amp - this unit is actually being utilized for my turntable above it. I can use the EQ switches on the face of the unit (which I like) and its pre-outs to go to the Sunfire
Fisher 460t tube amp - needs to be looked at, once fully functional it will sit on top my Parasound to switch between the two for those long demo days
Carver M1.0t
Yamaha R-300 - my dads original unit that I hope to get refurbed and working to give back to him as a gift. I also hope to replace the cheap case (vinly on pressboard) with a nice custom wood made case
Pioneer Laserdisc CLD-D504 - THANKS NOOSHINJOHN!